Running shorts make kids happy!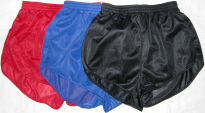 Red-Royal-Black
Nonsplit Kid Running Shorts
RETAIL PRICE $20.99
YOUR PRICE $16.99
No club to join - Easy check out!



We've made the kid's shorts in our traditional nonsplit style running short. These have been great and easy "anytime" shorts for our kids!

We're currently offering child sizing small/medium 6-10 and large 12-14. Kids only grow! and these are not "oversized".

Tricot Shorts are made with a soft and silky nylon tricot shell and built-in matching liner.